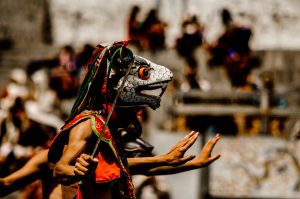 Yin compassion is the power that loves unconditionally. It's the Mother, the all-encompassing love that says 'I carry you and I love you with all that you are!' And as Leonard Cohen sings so beautifully in his iconic song 'Hallelujah', both the Holy and the Broken Hallelujah are there for us to acknowledge and embrace. Happiness won't happen only when we have banned 'the Broken' from our lives.
Without this Yin compassion, it's almost impossible to rest in the wonderful paradox that is our life.
Our yearning for perfection is a beautiful quality that leads to great beauty and depth. Yet if we fail to discover and embrace the perfect and the good in our so-called imperfection, we will never really have peace. Then the yearning for perfection becomes the scourge that whips us along in ignorance, restlessness and rootlessness.
This time I would like to share a poem where the Mother speaks to us (in the person of Rainer Maria Rilke), inviting us to not look away from reality, but at the same time to not let go of our yearning either. I invite you to rest in the Mother's arms and let her nourish you, so that you can set out again, with renewed passion, to create your best life!
Perhaps all the dragons in our lives
are princesses
who are only waiting to see us act
just once, with beauty and courage.
Perhaps everything
that frightens us is
in its deepest essence
something helpless
that needs our love
Rainer Maria Rilke
The first time I read these lines, an indisputable realization of 'Truth' opened up and I felt a kind of deep plea welling up in my body that this might be true! This might possibly release me from the heavy weight of guilt that I encountered in the caverns of my mind. For these dragons hide themselves deep in our being and it requires courage and a Sherlock Holmes-like precision to confront them and unmask them in a loving way. If I can acknowledge and allow the pain and confusion in their armored form (in myself and others), nothing less than a miracle of grace can open up, where love will flow again and clarity and power become available once more.
'Practice never ends' – life is an adventure and a constant challenge, where dragons large and small keep inviting us to awaken, if only we are willing and able to see it that way.
In Love,
Chahat
https://chahat.nl/wp-content/uploads/2017/11/chahat-low-res.-4.jpg
3000
4495
admin
https://chahat.nl/wp-content/uploads/2017/07/logo_chahat-2.jpg
admin
2018-04-08 14:38:56
2018-10-09 09:37:54
About dreams and dragons…